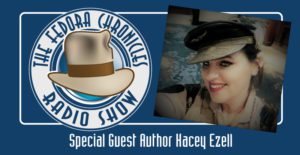 So, at DragonCon, I had the opportunity to meet a really terrific gentleman named John Pyka, who also goes by the moniker Big Daddy Cool.  John is an authority on all things Dieselpunk, and he invited me to take part in a podcast run by himself and his friend, Eric Renderking Fisk.
Thus, I had the opportunity to join them for an episode of The Fedora Chronicles.  🙂  Please go check it out, we really had a blast talking about Minds of Men and all things Dieselpunk.  It was really a lot of fun.
Special thanks to John Pyka aka Big Daddy Cool and Eric Renderking Fisk for the chance to hang out!