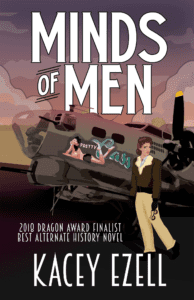 My friends, I'm overwhelmed with gratitude.  Thanks to your votes and nominations, Minds of Men was selected as a finalist for Best Alternate History at the 2018 Dragon Awards!
I'm stunned and so, so, so thankful to have an amazing legion of fans.  Thank you.
For those uninitiated, the Dragon Award is a completely fan-selected award that runs on a period of open nominations for a few months.  Then they close nominations and the works with the most nods are named as finalists.  And thanks to you all, Minds of Men is one of them.
So the next step is voting!  If you haven't done so already, you can sign up to vote here. Even if you choose not to vote for Minds of Men, please do vote for your favorites.  Fan awards only work when the fans participate!
Once again, thank you so much for this honor.  I cannot tell you how much it means to me.
Much love,
kc