Maybe two? years ago, I first heard about FantaSci. Mark Wandrey sent me an excited IM and said that there was going to be a new con, a successor to Honorcon, and it was going to have a focus on the Four Horsemen Universe (4HU). I was excited about being part of the 4HU, and the idea of a "4HU Con" was incredibly cool. So as soon as I could, I reached out and asked to be considered as a featured panelist. To my intense delight, I was accepted, and so were a TON of my friends!
Wednesday
Not only was I invited to be a featured panelist, so was my dear friend and completely badass coauthor Marisa Wolf. So she flew in to my local airport on Wednesday, and I knocked off work a bit early to go pick her up…aaaaand the shenanigans started pretty much immediately.

Okay, so real talk? Marisa Wolf cannot open her mouth without making me laugh. Those of you who watched our gigglefest Facebook live know what I'm talking about. She's fantastic, and I knew that the weekend was off to a fantastic start.
Thursday
Thursday morning, Marisa and I got up early and hit the road.  We managed to miss most of the DC morning rush hour on our way down to pick up Jason Cordova and Philip "Doc" Wholrab.  For the record, despite what Jason may be telling you, I'm not a total incompetent.  I checked (via two GPS programs) whether it would be faster to pick him up first or pick Doc up first.  Both Waze and Google agreed.  It didn't matter; six of one, one-half dozen of another.  So we jetted over to get Jason and then headed to Doc's, and I didn't pay attention to any of Jason's verbal directions because I know better.  😉 
Besides, I was already detouring 3 hours out of the way to pick him up. Was 20 min really going to make a difference? I just wanted to see my friends!
We drove through some serious rain and even a little snow, but eventually we acquired the guys and headed south to Durham. The Blue Ridge Parkway was a lot of fun to drive, and I don't think I scared my passengers too much. I'm a bit of an assertive driver, but we made it safely, so it can't have been TOO bad. (insert "but did you DIE?!?" meme here…)
Road trip complete, we arrived at the con hotel, which was the beautiful Hilton DoubleTree Raleigh-Durham Airport. What a great facility! The wide, welcoming porch and cozy, comfortable lobby was a sign of good things to come. Especially because some of our favorite people in the world were waiting for us right inside.
I ignored all of them. I was highly caffeinated and overhydrated and I had an urgent appointment to see a man about a horse. But once I handled that business, it was fantastic to meet up with Mark and Joy Wandrey, Chris and Sheellah Kennedy, Kevin Ikenberry, Jon Osborne, and too many more people to mention. It was like we knew everybody already! We hugged and chattered and giggled… and eventually got settled into our rooms.
Our hotel room was quite comfortable. We couldn't adjust the temperature down, and our toilet tank had a tiny leak (that was fixed with a quickness as soon as we discovered it), but the room itself was perfectly situated away from the noise, next to an outside door, and had two very comfortable beds in it. I would stay there again, for sure.
After we got all checked in and settled, Marisa and I headed down to the hotel restaurant to meet up with Mark, Chris, and Kevin for a 4HU Core Authors' meeting.  We discussed <redacted> and <redacted>, and fans of the series will be super excited to know that <redacted> will be teaming up with <redacted> to perform the critical task of <redacted> the <redacted><redacted>.   So… get excited for that!  😉
The meeting ended, but the discussion and fun continued in the bar, until I couldn't keep my eyes open any longer. The drive and the week leading up to the con had taken its toll, and I was tired. Marisa and I said our good nights and we both headed off to bed.
Friday
Friday morning, Marisa's sister (codename: Sister Karen) and brother (codename: Sleepy Wolf) flew in to town and joined us at the hotel. We hung out for a bit, and then Jason, Doc, Speaker, and I headed out to Baen HQ while Marisa hung with her siblings for a bit.
Baen was a lot of fun. I got to see Christopher Ruocchio, Tony Daniel, Jim Minz, Grace whose last name I don't know, and Marla (whose last name I know, but won't publicize because she's not a writer or editor). Plus the office cats. We talked about books and podcasts, got to meet Jacob Holo and his lovely wife (whose name I forget, I'm sorry!) and ran into Steve White once again. Steve was in town to be a special guest of FantaSci, and I was excited to see him and get to meet his super funny, beautiful wife Sandy.
Plus we went to lunch. There were sweet potato fries. And ice cream. It was delicious. Thank you so much, Baen!!
After lunch, Doc and I headed back to the convention and a few panels. I had "Surviving the Apocalypse" at 5pm. Speaker moderated that one, and as ever, did a fantastic job guiding the discussion. Afterwards, we attended opening ceremonies for the con, followed by "Dating Game with Books" at 7pm.

For "Dating Game", I cosplayed Evelyn Adamsen, my WWII-era psychic character from Minds of Men. It was a lot of fun, but believe you me, Evie was NOT comfortable with some of the questions asked! Nor was she comfortable with some of the answers provided by "Tamir Alcuin", portrayed by Marisa Wolf. It was a riot of a time, and it only got better in the second round, when bawdy bachelorette "Jolene" (played by Con Chair Joel Lyons) grilled three fictional bachelors as played by their authors (David Weber, Mark Wandrey, and Chris Woods). It was hilarious.
After that, there was dinner (I think!) and more hanging out with a ton of people at the bar. Which was fantastic, especially because WE GOT AN ORANGE TAG!!!
HUNTER, by Marisa and I, released on Friday, and by Friday night, we were the #1 Hot New Release in Action and Adventure Literary Fiction on Amazon!  I don't want to speak for Marisa, but I was bowled over, flabbergasted, incredibly honored and so, so, so psyched that people liked the book!  We really had a great time writing it, and it felt amazing to celebrate the launch surrounded by friends and chosen family.  So not for the first time, and definitely not for the last, I will say thank you, FantaSci, for an incredible experience. 
Saturday
Saturday was my birthday.  🙂   I turned 42, which as everyone knows, is the answer to Life, the Universe, and Everything.  However, in my head I'm still a kid of 7 or so, who finds it necessary to trumpet the news of my birthday from every convenient rooftop.  So when we got up and around that morning, I was greeted by a flurry of "Happy Birthday!" wishes.  I couldn't have asked for more.  It made my inner 7-year old's heart so glad, and made me feel so loved.  Once again, from the bottom of my heart, thank you, FantaSci, for celebrating with me. 
Programming started bright and early at 9am with the Baen Books Slide Show & Travelling Prize Patrol.  This panel is a perpetual favorite for several reasons:  
1. They give out free books.
2. They show off new (and old but still beautiful and amazing) cover art and
3. Sometimes I get a chance to talk about my work. 
This was one of those times.  I got to tell the room about Noir Fatale, and how amazing and cool all of the stories in it are, before I had to leave early to get to my next panel.  As always, Jim and Tony D. were incredible presenters, and I wish I'd been able to stay for the whole thing. 
But at 10, I had Alternate History Change Points. I ended up being appointed moderator on the spot, and I think we had a pretty good discussion about the nature and definition of alternate history, what makes a good point of departure from the actual timeline, and why we tell various types of alt history stories.
When it was over, I had time for a quick lunch break before hopping into a panel on Alien Races.  This one was a lot of fun, too, in part because Marisa and I both got to be on the panel.  Once again, I moderated, and I managed to get about halfway through the panel before we started talking about interspecies sex.  😉  What can I say?  It was a fairly rollicking good time, and I may have even succeeded in making Steve White blush.  Achievement Unlocked!
After that, we rolled right into the Chris Kennedy Publishing: The Year Ahead panel. Here, Chris gives an overview of his publishing schedule for the year, and the panel and I got to see a very special preview of some seriously badass cover art. Those who were at FantaSci know, but I'll wait until Chris gives me a green light before announcing it in any more detail. Let me just say that I think you're all going to like it.
At 3pm, Kevin Ikenberry, Marisa, and I broke off to go talk about the Peacemakers of the 4HU, and what they do and how they do it. That was a fun panel, too, and we had the opportunity to talk a bit more about how we actually make this "shared world" thing work.
Once that was over, we had an hour or so to get ready before the first ever 4HU Mercenary Dining Out. I'd come up with the idea to do a Merc Dining Out about a year ago, and had volunteered to put it together. Truth be told, due to Joel Lyons and his excellent staff, all I really had to do was come up with a script and program, and get people to play their parts. It was really quite easy, and that's only because everyone working on it was such a pro. Thank you all.
Marisa and I both cosplayed Depik characters, and the ever amazing Wendy W. did some gorgeous cat makeup on us both. Then I played Madam Vice to Kevin Steverson's Mr. Vice, while Kevin Ikenberry (as Peacemaker Six) served as Sergeant At Arms. Marisa (as Dama Tsan of Whispering Fear Clan) was our expert grog demonstrator, along with Chris Kennedy (as Nigel Shirazi). Mark Wandrey played Jim Cartwright III and presided over the mess, but we were all upstaged by Sheellah playing Alexis Cromwell and Joy playing Sansar Enkh. The ladies looked STUNNING, and when joined by the ever-radiant Sharon Rice-Weber (as Grand Duchess New Montana) and Sandy White, really made the head table shine.
Overall, I'd call the Inaugural Merc Dining Out a success. We had a grog and many toasts, and a lot of fun and noise. The food was delicious, and we got to welcome Jon Osborne to the ranks of the 4HU Core Authors. Once again, thank you, FantaSci, for making the evening so fantastic.
After the Dining Out, I was tired. But we still had a launch party planned in the consuite for Hunter. So you can imagine my surprise when Mark grabbed me and informed me that we had to plot about the sequel to Weaver RIGHT NOW. I'm sure I looked confused, but I figured he must have had an idea or something that he didn't want to lose and figured that I could roll with it.
So we sat down for about 10 minutes and worked our way through some ideas we'd had for the second Tortantula novel in the 4HU. The ideas were good, and I was excited about the book, but I could feel my energy flagging and I knew that if I wanted to do more than put in an appearance at my own launch party, I had better get moving. So when Mark announced "okay, I think that's it, thank you." I took that as a dismissal and headed upstairs to the consuite.
Little did I know, I was supposed to wait for him.
As I walked down the hallway toward the consuite, someone giggled and slammed the door shut. I blinked, but figured that maybe something was going on, and maybe we were meeting up in the other half of the consuite (it was split over two rooms). I poked my head in there, but I didn't see any of my friends, and so I started to wonder. I walked back out into the hallway, and Kevin Ikenberry appeared.
"Come with me," he said, and put his arm around my shoulder.
"I don't know where our friends are," I remember saying. I probably sounded like a lost little girl. I get a bit whiny when I'm tired. #confessions
"It's okay," he said, and opened up the door to the consuite.
It was dark inside. I took a step in, and then it dawned on me.
"SURPRISE!" they yelled, and the lights came on, and all I could see was balloons, and streamers, and a cake, and my beautiful, wonderful, amazing, too-cool-for-this-world coauthor Marisa Wolf with a shit-eating grin bigger than her home state of Texas.
She threw me a birthday party. I had no idea.
There was amazing cake, with the cover art from HUNTER on it. Joy gave me a gift that nearly made me cry: a hand-crafted, one-of-a-kind, crocheted Depik that I named Cahli, after the Governor in the book. There were my friends singing to me and laughing with me and hugging me and I have rarely felt so loved.

I'm running out of words, so let me just say this. I am so very, very blessed to have these people in my life. Thank you all.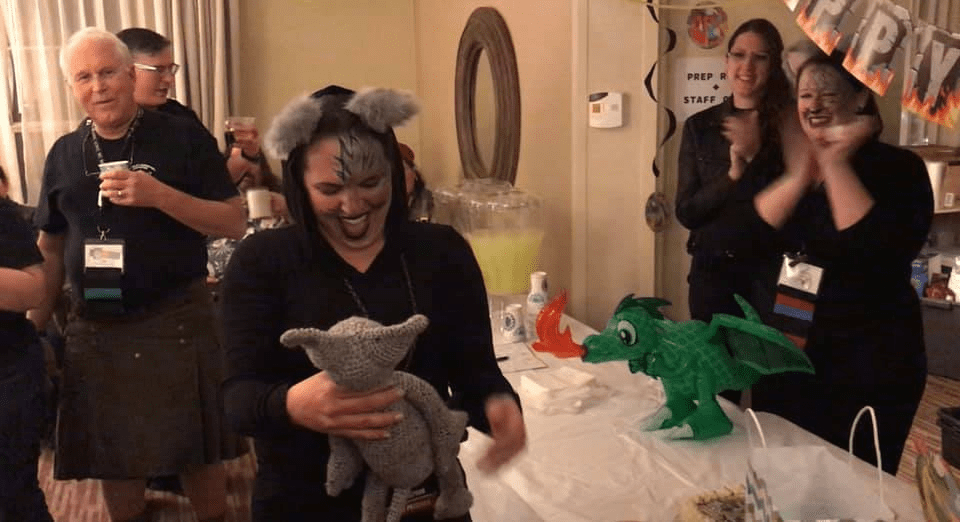 We stayed in the consuite until it was time to close it down, and then we cleaned up and headed back down to the hotel bar. We hung out there for a little while longer, but after awhile, I couldn't keep my eyes open, and headed to bed. I didn't want the day to end. What a fantastic birthday. Again, thank you, FantaSci.

(And especially you, Marisa. Words fail me.)
Sunday
Sunday morning, we both slept in. It was glorious. When we eventually got up, we had breakfast in the hotel, and then headed to Chris Kennedy's author table for our signing. We signed and sold several copies of HUNTER, so many that I was barely able to keep one for myself. I think Chris only had two left, and Marisa only one (hers!). So… that was pretty successful, too!
After the signing, Marisa had lunch with her mom and brother (not Sleepy Wolf) who came in to town for that purpose, and I grabbed food with Doc and Jason, and then hung out with Kevin Ikenberry and his buddy Mark for awhile. We plotted a little, but mostly just talked about the con and the universe and all the great stuff on the horizon. FantaSci was starting to wind down, and while it's inevitable, it's always a little bit sad.

After that, Marisa, Sister Karen, Sleepy Wolf and I joined Joy on the Uncomfortable Couch in the hotel lobby. (Seriously, that couch sucks. Everything else about the hotel was on point, zero complaints… but that couch needs to GO!) where she was taking a break after tearing down her dealer booth for Spinner's End Studios. Eventually, my dear friend and fan Bubba also joined us, and we had a very pleasant afternoon. At some point, Mark Wandrey grabbed Marisa to plot about their novel, so that's exciting, too.
It was warm and cozy, and I started getting sleepy, so I got up to walk around. I wandered out onto the back patio, where it was absolutely gorgeous with the sun and a spring breeze. I decided to grab my laptop from the room and do a little writing out there. I got a few words down, not as many as on a non-con day, but not nothing either.

The work goes ever on.
Marisa and Mark broke up their powwow so that Mark could attend the FantaSci Guest dinner with Joel. Marisa, Bubba, Doc, Jason, Sleepy Wolf, Sister Karen, and I decided to go grab some highly rated hibachi before the Wolf siblings had to head to the airport. I kinda thought it was going to be a Benihana-style steakhouse with the chef and the grill and the flaming onion volcano, but I was wrong. It was a fast-food style order-at-the-window-and-pick-up-when-your-number-is-called kind of place… but the food was DELICIOUS! Seriously, I'd go back there in a heartbeat! Yum.
Marisa took my car to make an airport run to drop off her brother and sister, and so Doc, Jason, Bubba and I walked over to Cold Stone for birthday milkshakes.  Because it turned out that Bubba's birthday was that week too!  And everyone deserves birthday milkshakes.  You know I'm right.  🙂 

Marisa found us there and then we headed back to the hotel to hang out with the rest of the crew for just a little bit longer before admitting that it was over and falling, exhausted, into bed.
Monday
Monday was a long day. The drive with Marisa, Doc, and Jason was delightful. Getting home to see my eldest was heart-soothing. For all the fun and all the love I experienced, I'd missed my husband and girls. EZ was still out of town with the little one, so I had to wait an additional day before hugging them, but my teenager was excited to see me.

That's a victory if there ever was one. J She's a good kid, and I'd really missed her. She gives good hugs. Oh, and my two cats were also happy that we were home. So that was nice, as well.
Overall Thoughts
For a first year con, FantaSci ROCKED it… no, scratch that. For ANY con, FantaSci rocked it. It's kinda mind-blowing that this is their first year. I would never have guessed that if I hadn't already known. Everything was so smooth and well organized and communicated. I'll be encouraging all of my author friends to give this con a go. What a great time! Congratulations to Joel Lyons and all of his staff and volunteers. Y'all did this. Well done.
Sister Karen and Sleepy Wolf are AMAZING con minions! I didn't give them much airtime above, but they basically spent the entire con running errands for Marisa and me, and getting things done for us so we didn't have to. Thanks to them, we had programs for the Dining Out, and scripts printed out, and a cake and decorations for my party, and all kinds of stuff. They're really cool people, and I cannot thank them both enough for everything.
I love my 4HU family so much. Not just my brothers and sisters in the author corps, but all the fans of the series. All you crazy mercs out there who lined up in DROVES to join the brand new fan group, all you wonderful people who bought HUNTER, who reviewed it online, who shared our social media posts… thank you so much. You're all amazing, and I'm humbled to know you.
If I were a betting woman (and I kinda am) I'd say that FantaSci will likely expand at a prodigious rate. I'd recommend getting your tickets for FantaSci 2020 now. I'm sad that I won't be there, due to moving to Japan, but you'd best believe I'll be back someday… and I really hope I see you there!