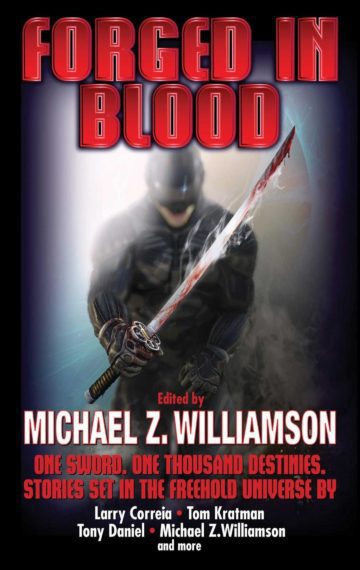 $6.99
Buy Now
Read A Sample
See The Reviews
Publisher:

Baen

Narrator:

Eric Jason Martin

Available in:

eBook, Audiobook, Print

Pages:

528

Duration:

14 hours and 31 minutes

Published:

September 25, 2018
NATIONAL BESTSELLER. AWARD WINNER. NEW STORIES SET IN MICHAEL Z. WILLIAMSON'S FREEHOLD SERIES.
WARRIORS AND SOLDIERS TIED TOGETHER THROUGHOUT TIME AND SPACE
From the distant past to the far future, those who carry the sword rack up commendations for bravery. They are men and women who, like the swords they carry, have been forged in blood. These are their stories.
In medieval Japan, a surly ronin is called upon to defend a village against a thieving tax collector who soon finds out it's not wise to anger an old, tired man. In the ugliest fighting in the Pacific Theater, an American sergeant and a Japanese lieutenant must face each other, and themselves. A former US Marine chooses sides with outnumbered Indonesian refugees against an invading army from Java. When her lover is stolen by death, a sergeant fighting on a far-flung world vows vengeance that will become legendary. And, when a planet fragments in violent chaos, seven Freeholders volunteer to help protect another nation's embassy against a raging horde.
Featuring all-new stories by Michael Z. Williamson, Larry Correia, Tom Kratman, Tony Daniel, Michael Massa, Peter Grant, John F. Holmes, and many more.
Contributors:
Zachary Hill
Larry Correia
Michael Massa
John F. Holmes
Rob Reed
Dale Flowers
Tom Kratman
Leo Champion
Peter Grant
Christopher L. Smith
Jason Cordova
Tony Daniel
Kacey Ezell
Michael Z. Williamson
Praise for Forged in Blood:
"The anthology celebrates soldiers and their tools. . . . Most of all, it celebrates warriors and the stuff that makes them so—the mettle more than the metal."—Tangent
"Fans of combat science fiction will find this collection irresistible…an entertaining and engaging book."—The Daily News of Galveston County
About Michael Z. Williamson:
"A fast-paced, compulsive read . . . will appeal to fans of John Ringo, David Drake, Lois McMaster Bujold, and David Weber."—Kliatt
"Williamson's military expertise is impressive."—SF Reviews
Novels of Michael Z. Williamson's Freehold Universe:
Freehold series
Freehold
The Weapon
The Rogue
Contact with Chaos
Angeleyes
Freehold: Forged in Blood
Ripple Creek series
Better to Beg Forgiveness . . .
Do Unto Others . . .
When Diplomacy Fails . . .
Standalone
A Long Time Until Now