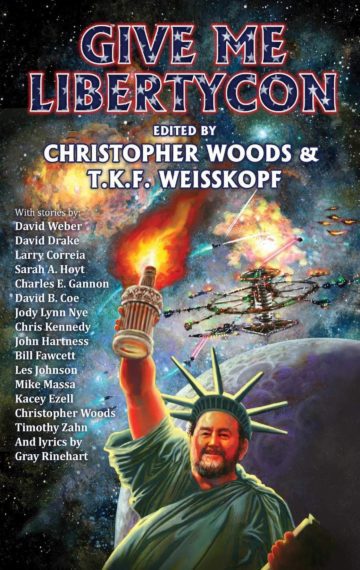 $8.99
Buy Now
Read A Sample
See The Reviews
Pages:

380

Published:

June 2, 2020
BEST-SELLING AND AWARD-WINNING AUTHORS WRITE FOR A GOOD CAUSE: All-new anthology from top names in science fiction and fantasy. A portion of the sales will fund a scholarship set up in the name of superfan, TVA engineer, and LibertyCon founder Timothy "Uncle Timmy" Bolgeo.
Join David Weber, Larry Correia, David Drake, and twelve other best-selling authors as they pay their respects to some of their devoted fans and to a lost friend. Fifteen stories from the authors' own worlds will showcase some of the names of their greatest fans in original works, written for a charity in honor of Timothy Bolgeo, the founder of LibertyCon.
Contributors:
David Weber
David Drake
David B. Coe
Larry Correia
Sarah A. Hoyt
Timothy Zahn
Mike Massa
Charles E Gannon
Jody Lynn Nye
Bill Fawcett
Chris Kennedy
Kacey Ezell
Les Johnson
John Hartness
Christopher Woods
At the publisher's Request, this title is sold without DRM (Digital Rights Management).
Praise for the contributors:
"Weber is the Tom Clancy of science fiction."—Publishers Weekly on David Weber
"Drake couldn't write a bad action scene at gunpoint."—Booklist on David Drake
"Everything I like in fantasy."—Jim Butcher on Larry Correia
Toni Weisskopf succeeded Jim Baen as publisher of Baen Books, a leading publisher of SF and fantasy, in 2006. She has worked with such authors as David Weber, David Drake, Lois McMaster Bujold, Eric Flint, Wen Spencer, Larry Correia, and many others. With Josepha Sherman she compiled and annotated the definitive volume of subversive children's folklore, Greasy Grimy Gopher Guts, originally published by August House. For Baen she's edited three original hard SF anthologies: Cosmic Stories: Adventures in Sol System, Cosmic Stories: Adventures in Far Futures and Transhuman, with SF author Mark L. Van Name.
Long active in Southern science fiction fandom, Toni is the first winner of the Triple Crown of Southern awards, having won both the Phoenix and Rebel Awards given by the DeepSouthCon, and been awarded the Rubble, administered by her "friend" Gary Robe.
Weisskopf is a graduate of Oberlin College with a degree in anthropology. The widow of Southern fan and swordmaster Hank Reinhardt, she is the mother of a delightful daughter, and lives in a hundred-year-old house with two cats and too many dogs.
Christopher Woods has been an avid reader his entire life. In addition to This Fallen World, he has written five books in his popular Soulguard series, as well as "Legend" and several short stories in the Four Horsemen Universe. He currently lives in Woodbury, Tennessee, with his stepdaughter and his wife, who often reminds him that he should watch what he says because he tends to fall asleep long before she does.