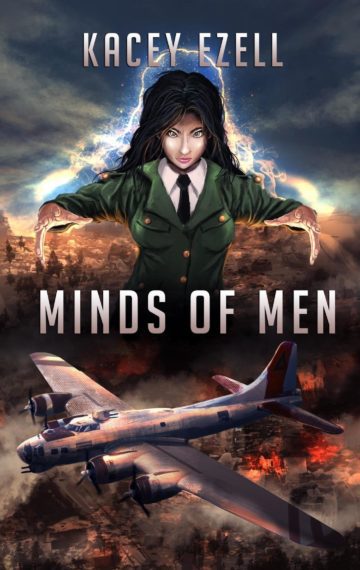 $4.99
Buy Now
Read A Sample
See The Reviews
See The Full Series
Buy The Audiobook
Narrator:

Jennifer Jill Araya

Available in:

Kindle, Kindle Unlimited, Audiobook, Print

Pages:

427

Duration:

12 hrs and 1 min

Published:

November 7, 2017
2018 Dragon Award Finalist–Best Alternate History Novel
Evelyn Adamsen grew up knowing she had to hide her psychic abilities, lest she be labeled a witch. However, when the U.S. Army Air Corps came calling in 1943, looking for psychic women to help their beleaguered bomber force, Evelyn answered, hoping to use her powers to integrate the bomber crews and save American lives.
She was extremely successful at it…until her aircraft got shot down.
Now, Evelyn is on the run in Occupied Europe, with a special unit of German Fallschirmjager and an enemy psychic on her heels. Worse, Evelyn learns that using her psychic powers functions as a strobe that highlights her to the enemy.
As the enemy psychic closes in, Evelyn is faced with a dilemma in her struggle to escape—how can she make it back to England when the only talent she has will expose her if she uses it?
Reviews
"Gritty, dark and damp. Much like the war itself."
Michael Z. Williamson
bestselling author of A LONG TIME UNTIL NOW
D.J. Butler
bestselling author of WITCHY EYE
"A lot of good scifi writers write war, but sometimes forget that it is fought by actual people, and even in the midst of war, you don't stop being people while you fight.
If you want a good read that dares you to think about what it is like to go to war when you can't hide behind the masks you learn to wear, check it out."
D.J. Butler
John T Mainer
---
Translations