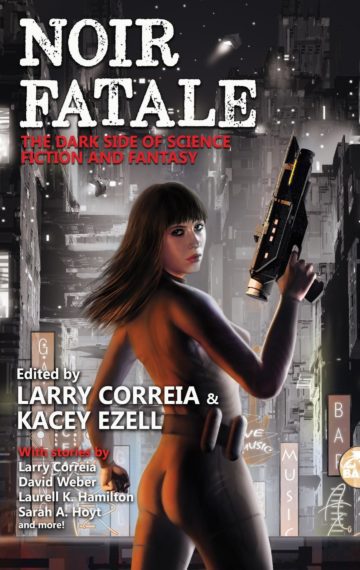 $6.99
Buy Now
Read A Sample
See The Reviews
Narrator:

Bronson Pinchot, Erin Mallon

Available in:

eBook, Audiobook, Print

Pages:

346

Duration:

12 hours and 49 minutes

Published:

May 7, 2019
NEW SCIENCE FICTION, URBAN FANTASY, AND MYSTERY STORIES WITH A NOIR THEME FROM BEST-SELLING AUTHORS LAURELL K. HAMILTON delivering an Anita Blake series story, LARRY CORREIA, penning a Grimnoir series adventure, an original Honor Harrington series tale from DAVID WEBER, AND MORE.
The silky note of a saxophone. The echoes of a woman's high heels down a deserted asphalt street. Steam rising from city vents to cloud the street-lit air. A man with a gun. A dame with a problem . . .
NOIR.
From the pulpy pages of Black Mask Magazine in the 1920s and 30s, through the film noir era of the 1940s, to today, noir fiction has lured many a reader and movie-goer away from the light and into the dark underbelly of society. Names such as Raymond Chandler, Dashiell Hammett, and James M. Cain; titles like The Big Sleep, The Maltese Falcon, The Postman Always Rings Twice . . . these have inhabited our collective consciousness for decades. Humanity, it seems, loves the dark. And within the dark, one figure stands out: that of the femme fatale.
Here then, Noir Fatale an anthology containing the full spectrum of noir fiction, each incorporating the compelling femme fatale character archetype. From straightforward hardboiled detective story to dark urban fantasy to the dirty secrets of futuristic science fiction—all with a hard, gritty feel.
As Raymond Chandler said, "Down these mean streets, a man must walk who is not himself mean, who is neither tarnished nor afraid." Because, as these stories prove, doing the right thing doesn't necessarily mean you get the big bucks or the girl. But you do the right thing anyway.
All new stories by
Larry Correia
Kacey Ezell
Laurell K. Hamilton
David Weber
Sarah A. Hoyt
Robert Buettner
Alistair Kimble
Griffin Barber
Michael Massa
Christopher L. Smith and Michael Ferguson
Hinkley Correia
Patrick Tracy
Steve Diamond
At the publisher's request, this title is sold without DRM (Digital Rights Management).
Larry Correia is the creator of the Wall Street Journal and New York Times best-selling Monster Hunter series, with first entry Monster Hunter International, as well as urban fantasy hardboiled adventure saga the Grimnoir Chronicles, with first entry Hard Magic, and epic fantasy series The Saga of the Forgotten Warrior, with first entry Son of the Black Sword and latest entry, House of Assassins. He is an avid gun user and advocate and shot on a competitive level for many years. Before becoming a full-time writer, he was a military contract accountant, and a small business accountant and manager. Correia lives in Utah with his wife and family.
Kacey Ezell is an active duty USAF helicopter pilot who also writes sci-fi/fantasy/alt history/horror fiction. Her first novel was a Dragon Award finalist in 2018, and her stories have been featured in Baen's Year's Best Military and Adventure Science Fiction compilation in 2017 and 2018. In 2018, her story "Family Over Blood" won the 2018 Year's Best Military and Adventure Science Fiction Reader's Choice Award. She writes for Baen and Chris Kennedy Publishing.