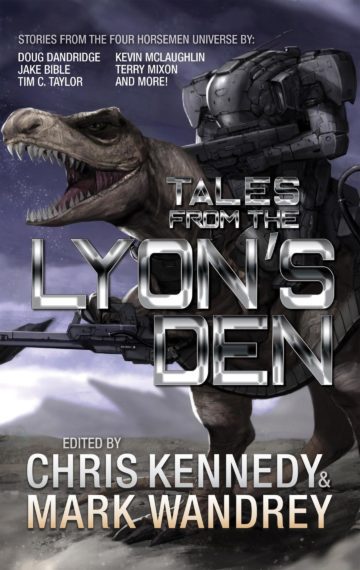 $4.99
Buy Now
Read A Sample
See The Reviews
See The Full Series
Buy The Audiobook
Narrator:

James Patrick Cronin

Available in:

Kindle, Kindle Unlimited, Audiobook, Print

Pages:

593

Duration:

16 hours and 20 minutes

Published:

September 25, 2018
Do you have what it takes to enter the Lyon's Den?
From the outside, The Lyon's Den doesn't look like much; there isn't even a sign. But mercs of all species know that if you head to southwest Houston, near the Starport, there's a particular run-down strip mall that looks like it's been abandoned for years. The glass door second from the south end of the strip is plastered over on the inside with blue paper, and the faint golden outline of a rampant lion is the only clue.
The door is locked, of course, and beyond the door is nothing but a darkened hallway with a downward slope and a slight curve to it. Once you follow this curve far enough, you are greeted by two very large, very well-armed Lumar. "Welcome to the Lyon's Den," the larger of the two says without a translator, and without a trace of an alien accent. "You know the rules?"
Welcome back to the Four Horsemen universe, where only a willingness to fight and die for money separates Humans from the majority of the other races. Edited by bestselling authors and universe creators Mark Wandrey and Chris Kennedy, "Tales from the Lyon's Den" includes eighteen all-new stories in the Four Horsemen universe by a variety of bestselling authors—and some you may not have heard of…yet. Want to know what it's like to do search and rescue while a battle is going on or what to do with that new manufactory you just won in a card game? Better learn the rules to the Lyon's Den…and then step inside!
Inside, you'll find:
Preface by Chris Kennedy
"The Devil in the Pit" by Mark Wandrey
"A Job to Do" by Quincy J. Allen
"For the Honor of the Flag" by Doug Dandridge
"Lucky" by James P. Chandler
"Shit Day" by Marisa Wolf
"The Charge of the Heavy Brigade" by Chris Kennedy
"The Bottom Line" by Michael J. Allen
"Midnight Diplomacy" by Tim C. Taylor
"Desperta Ferro" by Eric S. Brown & N.X. Sharps
"The Deadly Dutchman" by Kevin McLaughlin
"The Felix" by RJ Ladon
"The Heart of a Lion" by Terry Mixon
"What Really Matters" by Chris Winder
"Headspace and Timing" by Robert E. Hampson
"Return to Sender" by Benjamin Tyler Smith
"Grunwald" by David Alan Jones
"The Quiet Was Fine" by Jake Bible
"A Mother's Favor" by Kacey Ezell
---
Translations