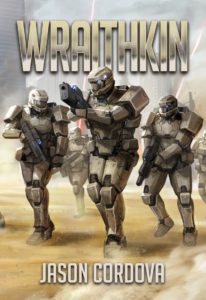 Hey Friends!  I have really terrific news!  Today's "Pimping My Friends" post is focusing on the super talented Jason Cordova!  Jason has been a friend of mine for a few years, ever since we met at my first LibertyCon.  He's also a fellow member of the CKP Writing Factory, and of the Baen "and more" anthology club.  For the past several years, Jason, Christopher L. Smith, Mike Massa, and I have done group readings together at LibertyCon, billing ourselves as the Four Horsepersons of the Anthology, since we seem to be in a lot of them together.
But that's not the exciting part.  What's exciting is that the first book in Jason's groundbreaking MilSF epic, WRAITHKIN, is on sale for $0.99 until the 27th of October! 
That's right, for less than a dollar, you can dive in to what one reviewer characterized as: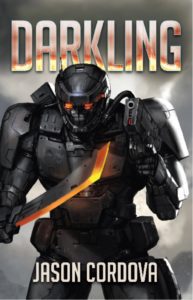 "It has a little bit of everything. Slam-bang action. Romance. Family. Friendship. A big canvas, with a dystopian government to be alternately fought and defended…Jason's writing keeps getting better and better, and this is a story to immerse yourself in fully…If you like milSF, you will love this book. And even if you don't, but like big novels full of life and vigor, you will still love this book." –Barb Caffrey, blogger and author of An Elfy on the Loose.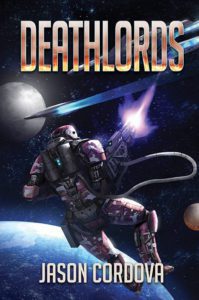 So head over to Amazon and check it out.  Then move on to DARKLING and DEATHLORDS, and devour them as well.  And when you're done, leave a review!
But don't be sad!  Because for you, my dear friends and family, there is more!  Jason has a brand, spanking-new short story called "I, Behemoth" set in the Kin Wars universe, and it's absolutely FREE when you sign up for his mailing list.  You can find the sign up on his website at www.jasoncordova.com, or on his Facebook page here.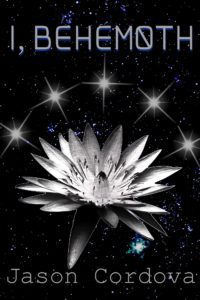 As the weather turns colder, why not curl up with a fast-paced Mil SF epic series?  🙂  Jason can definitely help you with that.  And like I said before, if you check him out, please, leave a review!
Much Love,
kc