DragonCon 2017
So I went to my first DragonCon in 2001.  I skipped '02 and '03.  Went to '04, '05, '06, '07, '08.  Skipped '09 and '10.  Went to '11, '12, '13, and '14.  Skipped '15, went to '16 and now '17.  That's 12 years of cons, which kinda blows my mind.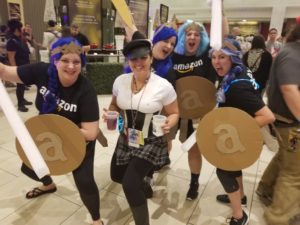 As an event, it's grown exponentially in the 15ish years since I started attending.  I went to that first con in 2001 with my best friend from pilot training, Tammy Archuleta.  I'd wager that our experience as first-timers was pretty common: that is to say, we had no idea what we were walking into.  Unbeknownst to both of us, we were about to come home.
And that's a feeling that has never changed.  Despite all its faults, despite all the hordes of people.  Despite the occasional asshole or groups of assholes.  Despite my original "con family" slowly having to decrease their attendance due to real life, totally valid reasons, when I walk in through the front doors of the Hyatt Regency Atlanta and see the logo projected onto a floor teeming with Stormtroopers, Hogwarts students, Na'avi, and scions of House Lannister… I'm home.
Wednesday, 30 August 17
The rumors are true.  Wednesday is, indeed, the new Thursday.  We hopped a flight from Baltimore at some ungodly hour of the morning and arrived in Atlanta some time around 10am.  The good news was that the MARTA was totally uncrowded, even with our luggage.  We had zero problems getting to Peachtree Center Station, and emerged into daylight to see something that looked eerily like Tuesdays of years past.  The Atlanta streets teemed with workday traffic, mixed heavily with people already rocking the cosplays.  The party had already begun.
Once again, we stayed at the Westin Peachtree Plaza.  Due in part to Hurricane Harvey, we had some cancellation questions with our reservation.  After we checked in, I asked to speak with a manager to ask these questions.  Shoutout to the manager, Casey Ladner, who not only answered my questions, but saw me reimbursed on the spot.  He also FULLY refunded my friend Marisa's reservation(including the non-refundable deposit!), since she couldn't get out of Houston in time to come to DragonCon.  Thanks for being a standup guy, sir.  And thanks to the Westin for enabling him to make that call.
Even though we were a solid 5 hours earlier than standard check in time, our room was ready.  Once again, the Westin went above and beyond and let us check in.  So up to the room we went, and proceeded to kick off our "grown up vacation" in the best of styles.
By taking a nap.  It was glorious.  Those of you with kids and/or variable work schedules will understand.
After our nap, I got notification of some of our friends filtering in.  We met up with Mike Massa and his lovely wife, who were staying in the room next door.  He, along with Chris Smith, joined us for lunch/dinner (meals at DragonCon are often eaten at off times, it seems) at the incomparable Meehan's.  While there, our friend Seth (best man at my wedding six years ago!) joined us, and the party began to grow.
We wandered over to the Hyatt bar and met up with a few other friends, including my mentor and senior author, John Ringo.  For those of you waiting with bated breath, yes, John, Chris, and I did discuss our upcoming work Gunpowder and Embers.  I think you're going to be happy with the result.  More to come on that soon.
We had started talking on the Hyatt smoking deck, but an enthusiastic partier with a drum showed up and started to drown out our conversation, so we took the party upstairs to Chris's room.  There we hung out, talked books and plots and various other things until about 2, when we decided we should probably start pacing ourselves and go to bed.  There were, after all, 5 days of con left to go.  😊
Thursday 31 August 2017
We slept in and I woke up on Thursday morning in the midst of a raincloud.  Our room on the 63rd floor meant that Thursday's wet weather socked in our view, which was kind of cool.  I hate looking at the inside of a cloud from the cockpit of my aircraft, but from a spot safe in my hotel room, it was pretty neat.
Usually, I go to DragonCon with the best of intentions.  I bring running shoes and workout clothes that remain untouched for the duration, despite the Westin's really nice workout facilities.  But this year, I tried a different tactic.  I only brought my swimsuit, and Thursday morning I did several easy laps in the Westin's pool while the rain drummed down on the plexiglass ceiling above me.  It was very relaxing and very zen, and I'm glad I met my goal of working out at least ONE day of con.  😊
After swimming, I went back up to the room to find EZ and Seth.  They wanted to make a Publix run for some snacks, so after I showered and dressed, I elected to take that time and go give blood.  Mike and Lorna Massa joined me for the first portion of that: the standing in line.  I will say that the blood drive was one of the aspects of DragonCon that I thought didn't go as well as last year.  They moved from the basement of the Hilton to the conference center in the basement of the Hyatt.  Their space seemed a lot more crowded than last year, and the lines for screening and actual blood draw seemed to take much longer.  Sadly, I was only able to produce about a half of a bag of blood for them, despite my conspicuous consumption of water.  I did get a cool t-shirt out of the deal though.  But the whole thing took a full 4 hours, during which time EZ went to Publix, came back, and went to get his own badge.  I met up with him afterwards and we got some food, then went to get my badge at VIP badge pickup in the Marriott.  While there, we ran into my publisher, Chris Kennedy and his lovely wife Sheelah.  I was able to introduce them to EZ, which I'd been wanting to do for a while.
After that, we met back up with Seth, and walked around for a bit, taking in all the costumes and revelry that was already in full swing.  On Thursday.  It was awesome and super fun.  We ended up meeting up with quite a few friends to do dinner at Fogo de Chao in Buckhead, which was amazing as expected.  Afterwards, we headed up to what would become BFC on the 16th floor of the Hyatt for more hanging out and catching up before EZ and I headed to bed around 2ish.
Friday 1 Sept 2017
Friday morning, I met up with the lovely and talented Bridget Correia for breakfast/lunch.  We met at LibertyCon 2016, at which point I informed her that I really thought we were destined to be BFFs.  Despite this awkward and potentially creepy statement, we really have become quite close, and I was excited to see her again.  She brought her husband, the International Lord of Hate, with us, and we had a lovely meal discussing kids and cons and the writing business, etc.  Near the end of our meal, the lovely and talented Brandy Spraker and her equally lovely friend whose name I've forgotten (I'm so sorry!) joined us.
Friday was the first day of programming for me, and my first panel was one called "Here comes the Gener-AL" put on by the Fantasy Lit Track.  Our original moderator didn't show, so Myke Cole (whom I hadn't met before) stepped in and did a great job leading a discussion about leadership traits in both real life and fantasy fiction.  Shoutout to John Ringo, Speaker, Chris Smith, Jeremy Levitt and quite a few other friends who showed up to support me in my first panel at DC 17.  And my husband, of course.  Who always supports me.  Because he's a badass.
Many thanks to Charlotte, the track director of the Fantasy Lit Track, for including me on the panel, it was a lot of fun.
After that, I moderated a panel called "World at War: Alternate History in the Early 20th Century" for the Alt History Track.  As always, Dr. Q and his staff did a phenomenal job with their track as well, and it was a privilege to lead a really fun discussion about why the years 1914-1945 seem so ripe for alternate history and secret history tales.   Plus, I got to plug my upcoming novel Minds of Men which is, (you guessed it!) an alternate/secret history set in WWII.
After that panel, I'm pretty sure I ate something at some point. EZ ended up going back to the room early, not feeling great, so I started walking around with Bridget and Larry Correia, and we were joined later by Seth.  This was Bridget's first DragonCon, so it was a lot of fun to take her around and show her around the Marriott and the Hyatt to see the incredible cosplays and shenanigans.  We joined a little dance party, as well as an impromptu singalong of Bohemian Rhapsody outside the Marriott smoking area.
Yes, you read that right.  Me, the Lovely Mrs. Correia, the International Lord of Hate, my husband's best friend Seth and about 100 of the closest friends we'd not yet met belting out Bohemian Rhapsody under the valet marquee of the Marriott Marquis hotel at about midnight on a Friday night.  That, my lovely readers, is DragonCon for you.  😊
Afterwards, we headed up to BFC to hang out for a bit.  ILOH had early programming in the morning (10 am is SO early at DragonCon!) so he headed back to their hotel.  Bridget, Seth, and I remained in BFC hanging out and chatting for a good long while.  Once again, it was probably two when we headed back.  That's one reason why I picked Bridget to be my BFF.  That girl can hang.  😊
Saturday 2 Sept 2017
Saturday was my busy day at the con.  Thanks to lessons learned last year, I skipped the parade in favor of spending time with my man, and I'm glad that I did.  After a leisurely morning, we got up and found some food at the food court.  This year, my clear food court favorite was the Indian food place next to the entrance by the CVS.  I cannot remember the name of the establishment, but they had 2 samosas for $4, and almost never a line.  It was phenomenal.
We got our food and headed to the Hyatt Regency V room for my first event of the day:  The Baen Books Traveling Slide Show and Prize Patrol.  If you've never been to one of these presentations, I highly recommend you catch one at a con near you.  Among other things, you've got a chance to see really cool new cover art, and possibly get a free book.
In addition, Baen publishes an anthology called The Year's Best Military and Adventure SF , wherein the editorial staff selects several short stories that have come out the year prior and compiles them into a single terrific volume.  Readers can then vote for their favorite on the Baen website (www.baen.com) and the story with the most votes will net its author a $500 prize.  Congratulations to Sharon Lee and Steve Miller on their win for "Wise Child"!  Special thanks to David Afsharirad for selecting my story for the anthology.  It was an honor to be included among such luminaries!
After the Slideshow, I hoofed it over to the Americas Mart and The Missing Volume booth for two back-to-back signings.  First up was Black Tide Rising, then Forged In Blood, which is the new Freehold Universe anthology edited by Michael Z. Williamson.  The anthology officially released yesterday (5 September 17) but Glennis had copies available for us to sign and for lucky congoers to purchase early.  Both signings were a blast, thanks to the hijinks of my coauthors, and I hated to leave the table.
But I did, because I had to jet from the Americas Mart back across the entirety of the Con to the Sheraton for a 7 pm panel on NeoPulp and Dieselpunk.  This panel was a blast, involved a lot of audience interaction, and I really enjoyed it.
After that, we had a quick break for some food and hanging out up in BFC prior to the "No Kidding… There I Was" panel put on by the SF Lit Track in the Hyatt.  This was my first SF Lit Track panel, and while the microphones didn't work, the Track staff did a great job as always. The panel consisted of me, John Ringo, Todd McCaffrey, and Mike Massa.  I told a story about surprising marks on a friend's back during SERE training, and how to relieve oneself in -30F weather.  John told stories about nasty supply sergeants puking on a jump.  Todd told stories of being a Cav scout during the Cold War.  However, Mike Massa completely stole the whole show with the true story of a legendary BUD/s class.
I won't repeat it here.  If you were there, you know.  😊
After the panel, I met up with my husband and Seth and we hung out for a while checking out the cosplays and just generally enjoying ourselves.  Our friend Jerry Phillips joined up with us after he ended up rendering first aid to a cosplayer dressed as Jessica Rabbit who got hit with a chair that some asshat threw from the 10th floor balcony of the Marriott.
Look, one of my favorite things about DragonCon is the family nature of it.  I'm not joking when I say that you're partying with 77,000 of your closest friends.  But, as in any group of that size, you're going to have a few asshats.  The key is to let them know that when they pull shit like that, they're no longer welcome in the DragonCon family.  Thanks to Jerry and the first responders, as well as the Atlanta Police Department, these particular asshats know that very well.  Meanwhile, I'm told that Jessica and her friend are doing well, and plan to return next year.
After all that, the mood soured relatively quickly, and EZ and I went to bed.  He was ready to party still, but I'll admit, I was tired.  Saturday was my busiest day, and the con wasn't over yet.
Sunday 3 Sept 2017
Sunday morning started pretty early.  Baen Books has a tradition of getting all the Baen authors at a con together for a meal, and this year we had brunch at Pittypat's Porch.  I had an opportunity to sit with David Butler, David Afsharirad, and Christopher Ruocchio.  We really had a great time, with a lot of great conversation, some pretty kickass food, and a lot of laughs.  I really enjoyed getting to know these three gentlemen, and hope to be able to hang out with each of them more in the future.
Afterwards, I finally got over to the Dealer's Room in the Americas Mart to browse a little (very little!) bit.  There was so much more I didn't get to see, but I did get to hang out with Bridget a bit longer before we had to head over to the Hyatt for the announcement of the 2017 Dragon Award winners.
Congratulations to Larry Correia and John Ringo for their Best Fantasy win with Monster Hunter Memoirs: Grunge, as well as to all the other winners.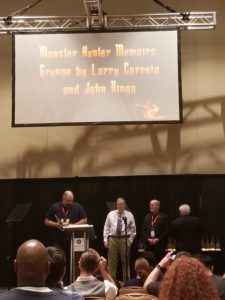 Congratulations, too, to my friends John F. Holmes (a finalist in two! categories), Chuck Gannon, and Mark Wandrey.  Both Mark and Chuck were finalists for the second year in a row, which is a hell of an accomplishment.  Especially when the field includes the likes of Eric Flint and Harry Turtledove.  I'm really proud of you guys.
I left the Dragon awards to make it over to my last Alt History panel for the weekend:  A rip-roaring gameshow called "History or Alternate History".  This was a TON of fun, and not just because Dr Q. let me get away with telling a slightly risqué story about a naked gunner.  Special thanks to Bill Fawcett and S. M. Stirling.  It was an honor to be on a panel with both of you gentlemen. Thanks again, too, to Dr. Q and the whole Alt History track.  You guys are the best.
After that piece of fun and revelry, I headed back to the Hyatt for "Playing in Someone Else's Universe" with Chuck Gannon, Todd McCaffrey, and Griffin Barber.  This one was super cool for me, since both Chuck and Griffin are great friends of mine, and Todd is the heir to the Pern universe that inspired… well… most of my life choices if I'm honest.  We talked about some of the complexities inherent in collaborative writing, whether with a peer (like Griff and me!) or with a senior author.
My last panel of the night followed not too long after that one, and it was titled "Basic Military SF".  I was tempted to show up with Uggs and a Pumpkin Spice Latte, but I wasn't sure anyone would get the joke.  😊   In this one, Mike Massa and I joined a distinguished group of mil SF authors and talked about some of the hallmarks of the genre.  I probably talked too much.  It's kind of my thing.
And then, it was time to party.  We started by heading upstairs to BFC to resupply drinks and whatnot, and ended up partying up there for a while.  Then the crew, by which I mean my buddies Jack Clemons, Doc Wholrab, Chris Smith, Aaron Haskins, Speaker, Jeremy Levitt, Jenny Ringo, Kim the Doc and a whole host of others went down to the Cruxshadows concert.  EZ, Seth, and I decided to join them, and then hit up the traditional Mariott rave afterwards.  Both were extremely fun, there was much loud music and dancing, and once again, Jack launched me (and about 50 other people!) onto the stage for the last song.
One day that stage is going to break.  I swear it.
Anyway, at about 0430, I realized that I was starving.  Where does one go in the south for food at 0430?  Why, Waffle House, of course!  Rest assured that the pecan waffles and hash browns covered and chunked have retained their deliciousness since my pilot training days way back when.  😊
Monday 4 Sept 2017
Labor Day.  Last Day of the Con.  We slept in again and got up in time to start packing.  I had a panel at 1300, but since it was located in the Westin, it wasn't too much of a logistical problem to get there on time.  This was my only panel for the American SF Media track, and it was me and author/USMC pilot Janine Spendlove talking about women in the military and how they're portrayed in media.  It went well, and afterwards, EZ and I checked out of the Westin and put our bags into storage before heading over to the food court for one last DragonCon meal.  We met up with Griffin and his friend Mary once again (they'd come to the panel) and Griff had a really good insight.  He suggested that the panel that I'd just been on would have benefited from the voice of an enlisted woman, and I agree.  So if anyone from American SF Lit track is reading this, perhaps next year, hm?  After food, we went up to the BFC suite, which was in the process of being shut down and packed out.  I raided the caffeine and we chatted… and then I fell asleep on the couch anyway.
Luckily, EZ was there to ensure that no one exacted penalty on me for falling asleep in BFC (sorry Chris!) and we enjoyed hanging out until it was time to head to the airport.  Thanks again to Jeremy Levitt for giving us a ride!
Final Thoughts:
This is really only the tip of the iceberg of things I did.  At some point, EZ and Seth and I hung out in the Hyatt bar with my publisher, Chris Kennedy, his lovely wife Sheelah, Mark Wandrey and his lovely wife Joy.  For the life of me, I can't figure out what day that was.  I also hung out with Griffin and Mary quite a bit, but it seemed to be for an hour here or an hour there. I even got to see my dear friend Amity and her family, and to meet baby Ember.
Dragon Con was a shifting kaleidoscope of encounters and fun.
It was also much more laid back for me than in past years.  A large reason for this is because I made a deliberate decision that I was going to edit my commitments.  Aside from my pro responsibilities, I refused to commit to any one event, instead declaring my intention to hang out with EZ and just do what he wanted to do.  Of course, he didn't care, much of the time, but not doing the parade, not throwing Corsets&Kilts… all of these things contributed to a much more satisfying "grown up vacation" than last year.
That, along with showing up on Wed, before the official festivities started, made the difference, I believe.  This was easily the best con I've had in a number of years.  No stress, no fuss.  Just going with the flow and hitting my panels.  Seeing old friends, making new ones, living it up with the love of my life and reveling in the feeling of finding my home planet that only DragonCon can provide.
Until next year, my friends!