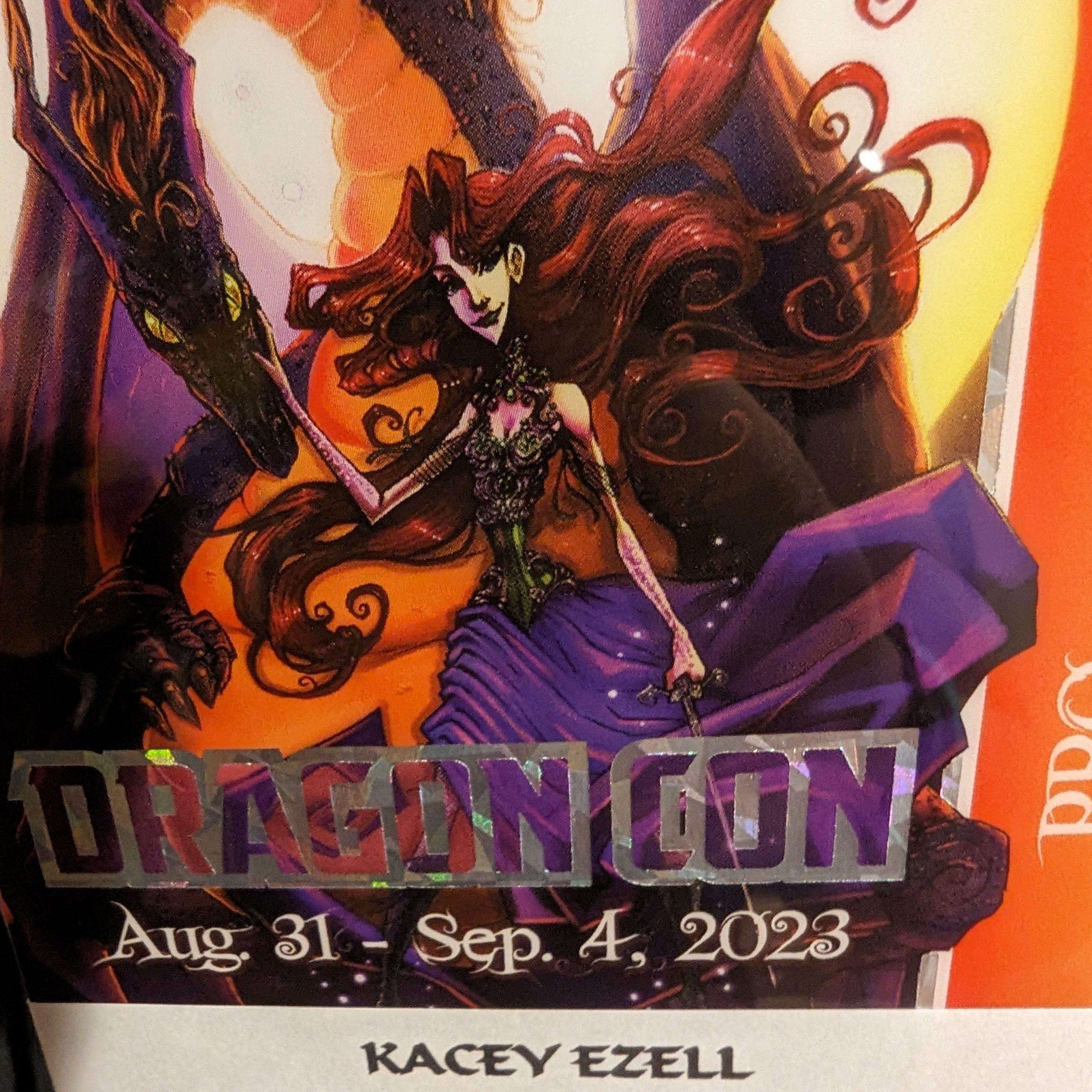 Before I dive into this post, you should all probably know that I have a special relationship with DragonCon. Dragon was my first and favorite con. I first attended in 2001 with my best friend from pilot training, Tammy. We had no idea what we were walking into. 🙂
As it turned out, back on Labor Day weekend of 2001, we walked into our "home planet". See, Tammy was a sci-fi/fantasy geek like me, albeit a little less closeted at the time. I hadn't yet learned that it was okay to let my geek flag fly, so I was shy about sharing my interests.
Walking into DragonCon was walking into a place where everyone shared those interests, and celebrated them, and that feeling of wonder and homecoming was one I've never forgotten.
Fast forward to 2023. DragonCon has grown by an order of magnitude, and spread over most of a week. It would take far too long to post a play by play of the whole week-long extravaganza here, but I'll try to hit the high points for you.
We arrived on Wednesday and met up with friends right away. This year, we were back at the Westin Peachtree Plaza, which is my favorite of the con hotels. As always, the Westin staff were incredibly professional and kind and mostly very enthusiastic about the con. Shoutout to those who made our crazy fun weekend possible!
I didn't have any programming on Thursday, so spent most of the day getting my badge and then giving blood. I try to participate in the DragonCon Blood Drive every year, and the folks at LifeSouth did an amazing job as always.
Friday and Saturday were my heavy programming days. I had panels for the MilSF Media Track, the SF Lit track, the Alternate History track, and for the first time, the Writers' track. Oh, and one very silly, very sexy DragonCon After Dark panel for the Digital Media track. 🙂 (IYKYK).
I cannot say enough good things about the ARMY of volunteers who made all of this amazing programming happen. DragonCon is a volunteer-run organization, and none of it could happen without the dedicated service of those volunteers, so if that's you, please accept my heartfelt thanks. Thanks for creating such an amazing experience for all of us. We truly owe you a debt that can't be repaid.
Sunday and Monday, I didn't have any panels, so I was able to spend some time in the MASSIVE Dealer/Exhibitor halls at the AmericasMart, toured the Art Show, did some networking and a tiny bit of shopping, and just hung out with my friends I rarely get to see in person.
Overall impressions that stood out for this year: This year, we at REALLY well. 🙂 Seriously, good food seemed to be the theme for this year. Between Atlanta Breakfast Club, Ray's in the City, Atalia, and Gus's World Famous Fried Chicken, I can't remember a DragonCon where I ate so well. Thanks to everyone who shared a meal with me!
Thanks as well to all the DragonCon attendees who came to see me and my fellow geeks on panels, or who struck up conversations in line (or the elevator!). At the risk of sounding like a cheesy 1980s kid's show, that's really the magic of DragonCon: The friendships we make along the way. 🙂
See y'all next year!