WooHooo!  I'll be at MarsCon 2018 in Williamsburg, VA next weekend.  (12-14 Jan 2018)  Here's my schedule (next to the lovely sunset pic for attention! ):
Kac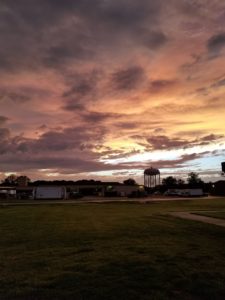 ey Ezell
6pm   Fri      Large Auditorium    Opening Ceremonies
7pm   Fri      Room L        An Introduction to Alternative History
9pm   Fri      Room L        All Nerds are Socially Awkward and Other Myths
11pm Fri      Room 7        Ready, Set, Flash!
11am  Sat     Room 7        Genre Blending
1pm   Sat     Room 8        Them's Fighting Words…
3pm   Sat     Room 8        Evoking Emotions, Provoking Readers
4:30pm-6pm          Sat     Room 6          Baen Books Traveling Road Show
8pm   Sat     Room 8        There Can Be More Than One…
9pm   Sat     Room 8        Westerns in Science Fiction and Fantasy
11am  Sun    Room 6        Theogony Books And Beyond: 30 Books In 2018
If you're planning on attending the Con, please say Hello!  It should be a blast, and a welcome break from mid-winter mundania!  🙂
PS.  I'm dragging my coauthor, the fabulous Marisa Wolf along.  🙂  So you'll get to meet her, too!