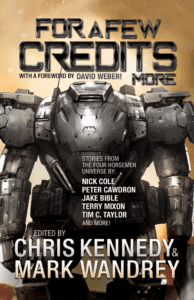 Great news! The second Four Horsemen Universe anthology is live on Amazon!  In his social media spin up to its release, co-editor and publisher Chris Kennedy teased a little "surprise" to be included.
Well guess what?  Surprise!  I have a teeny tiny little story in this anthology, called "The Start of Something Beautiful".  It was a tiny vignette that wouldn't leave me alone until I wrote it.  So I did.  And I sent it to Chris and Mark, and… well… there you go.
However, that leads to another question.  The question you should be asking yourself is this:  if this story is only the start, what's coming after it?  😉  Stay tuned, my dear friends!  Only time will tell.
But in the meantime, feel free to comment below with your speculations.  I'd love to see what you guys think!  And go check out the anthology!  You can find it here: https://www.amazon.com/dp/1942936842/ref=sr_1_2?ie=UTF8&qid=1505452695&sr=8-2&keywords=for+a+few+credits+more
It's massive and terrific.  Enjoy!  And when you're done, leave a review!