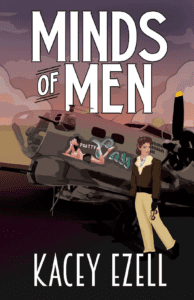 I just got a terrific review of Minds of Men, from the fabulous Jimbo's Awesome Science Fiction and Fantasy Book Reviews, and I wanted to share it with you, my friends.  🙂  Here's my favorite part:
It's umm… Alternate history. And I've got a history degree. And if one of my old professors were to find out that I read a book that they'd consider to be historical fiction, I'd be in deep doo-doo. If they found out I enjoyed it, I'd be in even deeper doo-doo. And if they found out I featured it on my blog and encouraged others to read it, I'd get to find out if it was possible to impeach me and take my degree away. So, I mean, yeah, Minds of Men kicks ass, but if you talk to any history professors from Oakland University (where I got my BA) especially, or Wayne State University (where I did some graduate work but never finished) then you didn't hear how good this book was from me. K? I mean, you can still say you read and enjoyed it if you don't mind the inevitable backlash. Just don't tell them it's my fault. I've got kids.
HA!  Thanks Jimbo!  🙂  I really appreciate it.  He actually goes on to leave a pretty in-depth review of the story.  You can check out the rest of it here.
And if you haven't yet picked up a copy of Minds of Men, what are you waiting for?  We even have it in audiobook now!