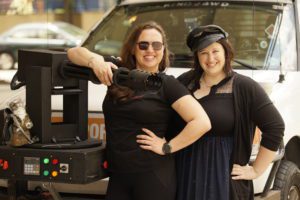 Tuesday:
Yep, you read that right.  I started my Liberty Con journey on Tuesday.  As some of you may know, I'm working on a new trilogy with John Ringo and Christopher L. Smith.  Since John lives in the vicinity of Chattanooga, I decided to head down a few days early to work with him on the project.  So Coriel and I hopped in the car and made the 12 hour drive.  Aside from a speeding ticket (damn speed trap on 81 got me) and some raging thunderstorms (RAAAAAGGGEEEE) we arrived safely and checked in just in time to get some food and sleep.
Wednesday:
Woke up with Coriel and used the gym at the Chattanooga Marriott.  We had a good little workout and got to spend a little time together.  Then we got cleaned up, met up with Nico who traveled in, and got in touch with John.  I abandoned Coriel and Nico to go to work with John, and I think the two of them took a stroll in downtown Chattanooga together.
Meanwhile, John and I went to Rembrandt's, which is a really cool coffee shop in the Art District of Chattanooga.  We ate and talked while he sprinkled magic fairy dust over what Chris and I had written so far.  After the heat and the sun started to get to us, we changed venues to Chattanooga Billiard Company.
Yep.  The secret's out.  John Ringo writes books in a pool hall.  😊
In seriousness, it's a very cool pool hall, and the patrons and staff I spoke to were really great people.  We had a productive session and made a lot of progress.
Afterward, we met back up with Nico and Coriel and John took us on a walking tour of downtown Chattanooga.  It's really a very cool town, and one I'd like to check out aside from a Con.
Thursday:
Nico, Coriel, John and I met back up and went to City Café for breakfast.  The one near the hotel was closed, so we headed out to another location across town.  There I got my much anticipated waffles with ice cream.  We also got trapped by a series of storms, so I jokingly directed John to pull out his laptop and get to work.  To my surprise, he did, and I unknowingly started one of the jokes of the weekend.  Apparently, I'm quite the taskmistress when I want something done.  Who knew?  😊
In any case, I ran Nico and Coriel back to the hotel and just missed seeing Speaker by about 5 minutes.  Then I headed back to City Café and picked John up.  We then repaired to his bunker/office for more work.  I got to say hello to the lovely lady Miriam, which was amazing.  John and I got more work done and decided to head back to the hotel at around 5pm.
And we walked in to DragonCon.
Okay, not really.  But bear with me for a bit.  For several years at DragonCon, Thursday was known as "the new Friday".  Meaning that the wise and/or lucky con goers would arrive on Thursday to hang out and pregame with their friends before programming began on Friday.  Last year at Dragon, programming began on Thursday, and EZ and I joined the legions of smart and/or lucky congoers arriving on Wednesday… which has officially been dubbed "the new Friday" at DragonCon.
But DragonCon has 70K attendees over 5 hotels in Atlanta!  Liberty is limited to one percent of that in one hotel in Chattanooga!  And yet…
Thursday was definitely the new Friday this year at Liberty Con.  Because despite the flooding storms that still poured down over Chattanooga and played havoc with people's travel plans, nearly EVERYONE arrived on Thursday.  Old friends, new friends, friends we hadn't yet met… it was overwhelming and insane and really, really cool.
I met up with Coriel, Nico, and Marisa Wolf.  We had our "Push Up Badass" dinner with Cathe Smith and her fiancé Mike, Toni Weisskopf, and Christopher Ruocchio.  We got to see Toni's amazing sword room, which was 100% worth every breath of hype.
Afterwards, we headed back and socialized with so many people.  I saw Speaker, finally.  And EP and Doc and Jeremy (aka Stitch) and his new bride Emily (aka Lilo… seriously guys, they're perfect together!), Joseph Capdepon and his lovely Bonnie, Jamie and Michelle Ibson, and Chris and Madi Smith arrived.  We spent a few minutes hanging out with Griffin Barber and Chuck Gannon in the hotel bar, as well as Chris Kennedy and Mark Wandrey with Keven Ikenberry and Jon Osborne and Chris Woods… and so many others I cannot possibly list them all.  Please don't be offended if I've left your name out.  There was much mingling and saying hello and roaming around to see different people.  I think I went to bed around 1am, but I honestly don't remember.
Friday
I remember waking up at 0730 and wondering why on earth I was awake so early!  But I got up and got some breakfast with Marisa and Nico, I believe.  My first panel was at 1pm, and it was a blast.  We talked about the future of the Black Tide Rising series, and John and his co-editor Kelly Lockhart hammed it up as usual, and John first started telling people about me keeping him chained in the basement while he worked on our project.  😊   The panel was followed by an autograph session, which was a ball as well.
After that, I assume I ate lunch, but I can't really remember. I do know that the next event was the Homo Stellaris panel, where Les Johnson and Speaker talked about their upcoming anthology that addresses the question: who do we have to become in order to colonize the stars.  I have a small story with Doc in that anthology, and it was fun to sit together and talk about our contribution.  Unfortunately, that meant I missed my friend Nico's reading, since it was scheduled opposite.
Following that, I got tagged to sign a bunch of 4HU books for sale, and so was tied up for a while until it was time for first dinner.  Marisa and I had a late 4HU dinner planned, but we knew we were going to need something before 2115 that night, so we grabbed a bite in the hotel bar with John F. Holmes and his lovely partner Karen, along with Doc.  It was great to see them, and we made a new friend as well.  Paul Sparks found himself at our table and joined in the conversation, so that was cool.
That's part of what makes Liberty the great con that it is.  Random strangers become good friends.  It happens ever year.  I hope it never stops.
That night, Jamie Ibson hosted the BADASS party (Books and Drinking, Authors Signing Stuff) along with Nathan Balyeat's Completely Random Cocktail Hour. Marisa and I put in appearances at both parties before we had to head off to the Galactic Governors dinner for the supporters of the 4HU Challenge Coin Kickstarter Campaign.  That was really great as well, and fun to meet and spend time with a few fans of the runaway series.
After that, more circulating and hanging out.  I may have sung "Possum Kingdom" a capella into a microphone and done makeshift karaoke to NIN's "Closer".  No big deal.  Griffin and Karen Barber, Marisa, Mike and Lorna Massa, and Jim Minz won't tell on me.  I think…  😉
At some point, I went to bed again.
Saturday
Saturday's panels started off with the Four Horsemen Roundtable, which was a blast!  We got to award red shirt coins to the people we killed off in our stories and answer questions about what we've written and what's going on in the future.  Following that, I sat in on the panel called "All The Shades of Noir" with Larry Correia, Cedar Sanderson, and Ed McKeown.  I had a particular interest in this panel, since I am co-editing a Noir anthology with Larry for Baen books.  I ended up running a microphone for the large crowd's questions.
After that, I had to go try to give blood.  I had a 1315 appointment, but they were so backed up with their processing that I didn't get a chance to donate before I had to head off to my next panel.  Maybe next year.
My next panel was the Baen Roadshow, which is a centerpiece of the con in many ways.  After LibertyCon last year, Monalisa Foster approached me about cosplaying a member of Tom Kratman's Amazon Legion, and between us we hatched a plot to ambush him and present him with a Balboan flag at this year's Roadshow.  Thanks to our inside woman, Toni Weisskopf, and to my fellow Amazonas: Monalisa, Emily, Tara Urbanek, Melanie Boyd, and my daughter Coriel.  We were able to pull off what Tom himself described as "Well that's just fucking cool".  😊  There's video floating around, so if someone wants to post it in the comments, that would be amazing.  (Thanks to Gerry and Jamie and all the videographers!)
But it turned out that Toni had more than one surprise up her sleeve.  As soon as the Amazonas marched back to our staging area behind the air wall, Toni called me back out again and revealed the preliminary sketches for the cover art for NOIR FATALE!  I confess, I squealed and jumped up and down like a little girl.  Not exactly the military image the Amazonas are known for, I confess.  😊  But still, it was an amazing moment, and having cover art revealed at LibertyCon was a bit of a dream come true for me.  😊  Achievement Unlocked!
After the roadshow, we had the Sha'Daa:TOYS roundtable.  I was able to read a part of my story with Marisa Wolf called "Underneath".  Unfortunately, I had to bail early, because I had to change and get ready for the next commitment: the Baen dinner.
Every year, Baen generously puts on a dinner for its writers/artists and editors.  This year, I had the opportunity to meet artist Guest of Honor Jon Picacio.  Unfortunately, I didn't get to hang out with him as much as I would have liked, but I hope we'll meet again.
I did meet up with my self-proclaimed BFF Bridget Correia.  We hung out together until I had to run down to do a reading for Tom Kratman's Carreraverse anthology.  The reading was well attended and, I think, produced some enthusiasm for the project as a whole, which is excellent.
Next up:
My book launch party!
Did I mention that I launched a book this weekend?  WEAVER, cowritten by me and Mark Wandrey, released on Friday.  It's the story of a pair of unwanted beings who found love and purpose in one another. It's a deep dive into the life of a Tortantula/Flatar pair, and another look at the Mercenary Life that underpins the structure of the Galactic Union in the 4HU.  Initial reviews are favorable, so if you haven't read it yet, please consider picking it up.  I hope you love it!
So, yes, I went to the book launch party. It was packed and a lot of fun.  Mark and I gave a signed copy of WEAVER to David Weber. I hope he enjoys both the story and the signatures, which were meant in the spirit of fun.  😊
I hung out with Griffin some more, as well as Massa, John Ringo and Kelly Lockhart, and the one and only Jack Clemons.  Oh, and the lovely Jenny Ringo!  Who I was so excited to see.
I think I went to bed around three.  Again, I don't really know.
Sunday
Once again, I woke up early.  I have no idea why.  I was scheduled for the Kaffeklatch, but Rich Groller told me that I should feel welcome to skip it if I needed to, since I had a particularly heavy programming schedule. So I did, and got breakfast with Marisa and Nico in the hotel buffet.
Then Risa and I headed off to the Chris Kennedy Publishing Year Ahead panel, where we talked about our various projects with the members of our CKP family, witnessed Jason Cordova finishing a book, and Risa talked up the Dragon Awards.
Then I had two hours of Author's Alley scheduled.  During which time I tried not to hit Dan Hoyt with my rack (😊), was photographed (along with Marisa Wolf and superfan Brian "Bubba" Gnad) by the supremely talented Oleg Volk, and sold and autographed a ton of books.  That was a lot of fun, and apparently everyone but me sold out of copies of ASSASSIN.  Good weekend!  😊
By 3, the con was over.  I missed the closing ceremonies because I had to clean up my Author's Alley.  Once that was done, I damn near collapsed in Speaker's suite surrounded by my chosen family.  I rallied to go to the traditional "meat faucet" with Coriel and everyone, but not before I stole 5 min to talk magic and magic systems with Dave Butler.
Afterwards, I really did collapse in Speaker's suite.  I was exhausted on every level, but I felt so full of love for the endless parade of friends and family. I'm sure I was not fit company on Sunday, as I couldn't really form coherent words very well, but I appreciate my cabal for taking care of me.  We laughed and played games and shot nerf guns in Speaker's suite until about midnight, when I finally gave up and went to bed.
Monday
Drove home. 11 Hours.  No ticket this time, though.   So that's a bonus.  😊
Final Thoughts.
I now know what my upper limit for programming for a single weekend is. 😊  I had such a fun doing all those panels and round tables and whatnot, but damn… I was spent.
LibertyCon 32 sold out in less than 6 hours. 6 HOURS, y'all!  I've said it before and I'll say it again.  LibertyCon is The. Best. Networking. Con. Around.
My kid is awesome.
My friends are awesome.
My coauthors are awesome.
My publishers are awesome.
I love you all. See you next year!