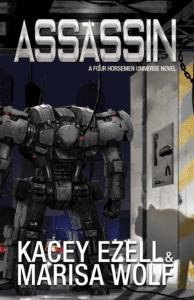 I'm so excited to announce that Assassin (a Four Horsemen Universe Novel) is finished!  I worked with the extremely talented and amazing Marisa Wolf to write a story about the deadly and notorious Depik; a race of felinoid assassins set in the Four Horsemen Universe created by Mark Wandrey and Chris Kennedy
No idea when the release date will be yet, but given the fact that Marisa and I turned it in in the last hundred hours of 2017,  I'm betting late winter of next year.  Maybe February?  I don't know, you'd have to ask Chris (my publisher).
I brought Marisa in to this project because we'd cowritten together before and I knew her style and quick wit would be perfect for the catsassins.  We really had a ball working on this together, and while I'm so glad it's done, I'm a little sad that our collaboration has come to an end.
But who knows, maybe, if you all like it enough, Chris will let us write a few more in the series.  🙂   Here's hoping!
Happy New Year, my friends!  May your 2018 be all that you want it to be!