You guys.  Seriously.  So many good things are happening right now that my head is spinning!  So here's an update post with a lot of super great news and fun stuff to check out.
So, without further ado:  Thing The First!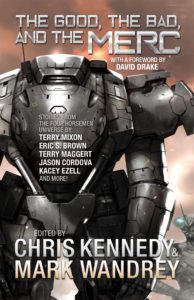 The Good, The Bad, and The Merc edited by Mark Wandrey and Chris Kennedy is LIVE today on Amazon!  This third anthology in the bestselling Four Horseman Universe (4HU for short) contains 16 short stories written by 15 authors and continues to flesh out the amazing setting and story laid down by the previous anthologies and novels in the series.  Fans of the series will be delighted to find a story featuring Jim Cartwright, from Cartwright's Cavaliers (the incredible first book in the series), two catsassin stories, and offerings from Rob Hampson, Christopher L. Smith, Jason Cordova, Marisa Wolf, and Phillip Wholrab's breathtaking debut story.
Do yourself a favor and click here to pick up a copy of The Good, The Bad, and The Merc, and then if you haven't already done so, dive in to the rest of the 4HU with Cartwright's Cavaliers and A Fistful of Credits.  If you enjoy fun, fast paced military sci-fi, you won't be sorry.  I promise.
Thing The Second:
Minds of Men is doing great!  Thank all of you so much for your support, either as launch team members, early reviewers, Facebook post sharers, word of mouth talkers, or whatever other role you've played.  I cannot tell you enough how much I appreciate you all.  We've enjoyed steadily growing momentum from the beginning, and I would love it if you would continue to share, support, review, talk it up… all the things you've been doing.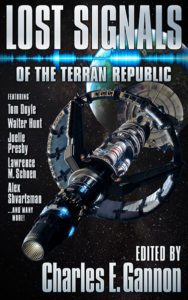 Thing the Final:
And now, an announcement!  3-Time Nebula Nominee Chuck Gannon is running a Kickstarter campaign to fund an anthology set in his Caine Riordan universe.  I could try to wax eloquent about it here, but there's no way I'm going to beat Chuck's own beautiful prose, so I'll settle for linking the Kickstarter page here.
But here's the really exciting part (at least for me!)  I've been announced as a stretch goal contributor!  That means that if they meet their first stretch goal, I'll be invited to contribute a story.  Because I really, really want to write in Chuck's amazing setting, I've agreed to sweeten the pot with some redshirt and cast member opportunities as backing rewards.  🙂  So if you're dying (see what I did there!) to show up as a named character in my upcoming 4HU novel Assassin, please go check out the Kickstarter campaign, and consider backing it!
As always, thank you all for your love and support.  I couldn't do any of this without you.  You guys remain the best.